Over the holiday break a number of different packages arrived unexpectedly on my doorstep–Christmas gifts from some of my favorite people! This has been one of the hardest holidays I've ever had to get through, but coming home to these little surprises really helped cheer me up. For real, you guys–it meant a lot.
Thanks Shawn!
Shawn from Branded in the 80s sent me a box full of awesome. I'll start with my favorite thing first:
Teenage Mutant Ninja Turtles Movie Poster Book
I've said it before, I'll say it again: man I love being a Turtle this TMNT poster book (still shrink-wrapped!) is one of the best gifts I got this year. My favorite TMNT collectibles come from the era of the first movie, which for me represents the height of Turtlemania. Not to mention Teenage Mutant Ninja Turtles is hands-down my favorite movie of all time.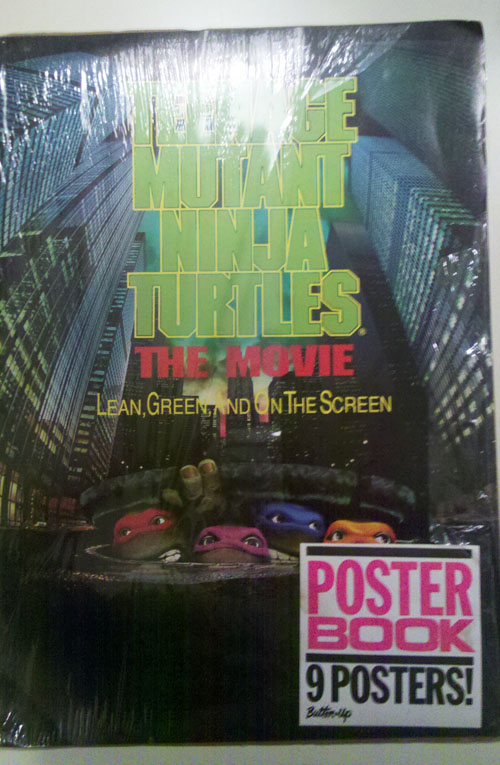 TMNT Shot Glasses
You know what else helped get me through the holiday? Booze. This pair of Raphael shot glasses was just what I needed.
Fact: vodka tastes better out of a Ninja Turtle shot glass.
Pac-Man Arcade Candy
Have you ever seen a more awesome candy tin? The candy inside is even yellow and shaped like Pac-Man.
Garbage Pail Kids & TMNT Stickers
Shawn's packages are the best because he always includes stickers. Not just any stickers, though–the really good shit that would have gotten front-page treatment in my sticker book back in the 80's.
Thanks Kal!
Kal, my friend and Ambassador of all that is Cool from Calvin's Canadian Cave of Cool, sent me this totally rad Foot Clan vehicle with "Destructo-Disk!" Sounds highly dangerous. I wouldn't have expected anything less from Kal, who's always introducing me to Things That Look Unsafe. My TMNT collection is seriously lacking in anything from the 4Kids cartoon era, especially the toys, so this was perfect.
Thanks Derek!
Derek, a.k.a. The Goodwill Geek, surprised me with a care package full of great stuff, including some original Christmas-themed poems.
McDonald's Christmas Ornaments = McAwesome
I especially like The Grimace, who just can't seem to manage those lights with his pathetic, stubby little T-Rex hands.
A Christmas Story Cookie Cutter
I can't wait 'til next Christmas. My neighbors and all my friends are going to get a tin of homemade "Electric Sex" cookies.

Operation Adhesive Bandages
I don't think these will mend my Broken Heart, but they're an awesome addition to my collection of pop culture Band-Aids.
Michelangelo Happy Meal Toy
This Mikey racer, along with the other TMNT Happy Meal toys I picked up, plus the others I got in my stocking on Christmas morning, make a complete set for me. BOOYAKASHA!
Thanks Wes (& Emily)!
Last but not least, my buddy Wes and his lovely wife Emily sent some homemade goodies from their kitchen. I have no idea what these things are, but they're freaking delicious. (And Wes–you guys are totally a "Hallmark couple," by the way. That Christmas card photo is ridiculous.)