If you grew up in the early 90s, you need to watch this. Now.
Some awesome guy on YouTube "took the damn Delorian, turned on the fuckin' flux capacitor, and traveled back in time to 1991." Watch this hilarious clip as he walks you through a bedroom (which looks a lot like my own when I was ten) that's all decked out in 90's products, posters, and technology and points out everything that was wrong with that decade.
httpv://www.youtube.com/watch?v=VyTdB_3HBp4#!
It was uploaded by user PauseDa90s, whose avatar wants you to drop that zero and get with the hero.
My favorite part: "That is a fucking sealed Vanilla Ice–don't even act like you don't like Vanilla Ice. Everybody in the '90s was boppin' they heads to that shit. SEALED! Do you know the control a kid has to have to NOT open that?"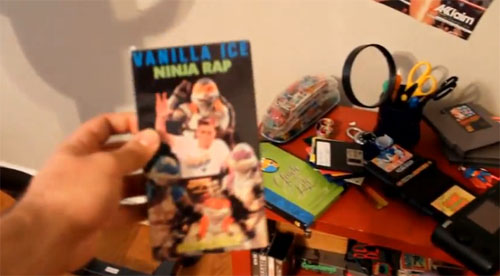 This guy is my new hero. I also highly recommend checking out his other videos, which he says he'll be posting every Saturday morning: