Despite having an intense nostalgia for all things '80s and '90s and constantly feeding this addiction in the form of media hoarding, toy collecting and rare purchases, every now and then I discover forgotten slices of pop culture that somehow managed to completely slip by me. And sometimes those discoveries are so awesome they hit me like a ton of bricks.
Today it's The Adventures of MC Skat Kat and the Stray Mob, an album whose existence I was completely unaware of until recently, when Spotify auto-suggested "Skat Strut" to me based on my heavy rotation of New Jack Swing and early '90s dance hits. You see kids? Artificial intelligence isn't all that bad. It's just as capable of helping you discover obscure old music that you'll love as it is ushering in the end of humanity. 
Who remembers MC Skat Kat? He was the cool cartoon cat who sang and rapped with Paula Abdul in her 1990 music video for "Opposites Attract."
In fact, they did a little more than just dance together, but hey, it was the early '90s and this sort of thing was normal. (See Who Framed Roger Rabbit? and Cool World for more hot cartoon-on-human sex and confused boners.)
While I'm on the Subject of Paula Abdul…
There has been a distinct lack of Paula Abdul-related content on this blog, so I'm glad this post is giving me the opportunity to remedy that.
There was a time in the late 80s / early 90s when Paula Abdul seemed to be everywhere. Her videos dominated MTV, she was cleaning up at the American Music Awards, you saw her in Diet Coke commercials, and it was even rumored she was dating Arsenio Hall. She had the looks, she most definitely had the moves, and even if she didn't have the greatest voice, her music was pure pop perfection for its time. All this, and she somehow managed to make tap dancing look cool. She was the "it" girl. I wanted to be Paula.
It's not an exaggeration to say that her debut album, Forever Your Girl, played a huge role in the soundtrack to my life during these formative years. In fact, I can distinctly remember making a new friend on the first day of third grade because of this very fact, as we bonded over our mutual love for Paula.
Paula's debut album is packed with hit after radio-friendly hit, spawning four #1 singles. One of those #1 hits was "Opposites Attract", an upbeat, danceable pop masterpiece that spawned the aforementioned music video starring MC Skat Kat, except the video version of the song was a remix that specifically contained a rap that the album version did not. As far as 10-year old me knew at the time, this was the extent of MC Skat Kat's existence. I loved the song, I thought the video was awesome, and that was that. I had no idea there was an entire fucking album of MC Skat Kat.
And now that I've rediscovered it, I am OBSESSED. 
Who is MC Skat Kat?
The rapper behind the voice of MC Skat Kat is Derrick "Delite" Stevens, someone whose music career sadly didn't seem to go very far after this project. It's a shame, because I really like his style, and his vocals on this album have a certain familiarity to them, reminding me of Will Smith mixed with Shock G. He's also the lyrical genius who wrote most of the album's raps, which introduce us to the world of MC Skat Kat and his posse of fictional felines — see below for my track by track breakdown.
To help animators bring MC Skat Kat to life, they hired the incredibly talented Michael Chambers, aka "Boogaloo Shrimp" to do all of his dance moves and poses. Finding out this specific fact alone was well worth the effort of doing research for this post, since I'm fresh off the latest episode of Cult Film Club where we gush all over Breakin' and its sequel, Breakin' 2: Electric Boogaloo, which both star Michael Chambers as Turbo.
For a deeper dive into the creation of MC Skat Kat and his short-lived legacy, I highly recommend giving this Vulture article a read.
MC Skat Kat and The Stray Mob Character Bios
MC Skat Kat's posse includes a rag tag bunch of cartoon cats–excuse me, Kats–who each have a distinct personality and vocals that can be heard at various points on the album. The official press release announcing The Adventures of MC Skat Kat and the Stray Mob is an absolute goldmine for getting to know more about these characters, since the Skat Katverse seems to be sadly confined to this album, with a few exceptions being the "Opposites Attract" video itself, and miscellaneous individual appearances in other cartoons. Huge shout out to the official Paula-Abdul.com fan site for posting photos of it, along with other super rare MC Skat Kat artifacts.
Here's a closer look at each character, with bios quoted directly from the press release:
MC Skat Kat
Skat Kat is a street philosopher with an alley Kat point of view. He's a rapper droppin' crazy science, and a dancer whose moves set the pace all over the place. He's got an eye for the ladies, definitely the Kat mac, but he never gets played or pinned down. Skat Kat remains on the smooth tip with an old school rap influence which adds the street to his new school hip hop. He's livin' all nine lives at once. Let the party begin!
The Stray Mob
They're out of the alleys and into the streets, these koolest of kool Kats. Tight and hype, this posse of B-Kats will be rockin' the hip-hop scene. This unlikely feline fivesome (pluce Micestro!) almost never agree on anything, but each might secretly admit that Skat Kat is totally Top Kat.
Fatz
Fatz is Skat Kat's right hand feline. Can't sing, can't dance, but no one can stop to the Kat when he pumps the bass on his crazy stupid beat box. Fatz is short and so is his fuse. He's got a big appetite–and a bad attitude. Even Skat Kat knows when to step off before he gets stepped on!
Leo
Leo rolled out of a trashcan and into the world of MC Skat Kat and the Stray Mob. He's big, bad bossy and well…brainless. Leo's jealous of Skat Kat and wants to take over as leader of the Mob, but you know what time it is–he's too slow and too mean to figure out the ballistics. He's that illin' groupie your homies always talk about–and he's occassionally mistaken for a refrigerator.
Silk
Silk is utterly feline cool, elusive, sexy but sweet. Se's the kicked back Kat of the bunch. Micetro's got a massive (for a mouse) crush on her, which Skat Kat ain't down with! Silk kicks it with the mob because the excitement of the streets, but she is most definitely one classy kitty!
Katleen
Sexy Katleen dances to her own drummer. The ideal around the way feline. She can ill if she has to, she can chill f she has to. A loudmouth panther in disguise! She's streetwise and sassy–and not afraid to give Skat Kat a piece of her mind. They're both stray Kat outsiders who share the same rough edges.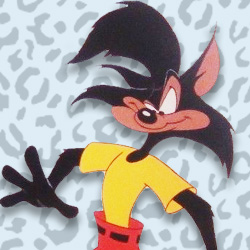 Taboo
Taboo's got a rubber body that can stretch in any direction, and he's got the craziest dance moves in the hood. This Kat is car crazy too–he built the Skatmobile (it's a Katillac!) and won't let anybody else drive. Taboo is a MacGyver reject, but def in his own way. When Fatz blasts off and starts dissin', Taboo's the only Kat who can bring him back to earth.
Micetro
Micetro's a mouse who popped out of a manhole one day and has been tagging along with the Stray Mob ever since. He knows how to put his innocent charm into effect. He's crafty and quick–this mouse has a mouth on him–he's always whispering off the 411 (gossip) and bad advice to anyone who'll listen. He's down by law with Skat Kat and the Mob.
Album Review
With all of this hype and build-up, by now you're probably wondering how good the actual album is. Well, I'm here to tell you that it's GREAT. Surprisingly so, for an album that's basically a spinoff of a music video.
Keep in mind, this was released around the same time that we got stuff like "T-U-R-T-L-E Power", "Doin' the Bartman" and "Batdance", when it seemed like every hot pop culture property had its own rap promotional music tie-in. The Adventures of MC Skat Kat and the Stray Mob kind of takes that concept and reverses it, debuting an album first, in the hopes it would later turn into a Saturday morning cartoon or MTV show; a bold strategy that clearly didn't work out too well.
If you're a fan of New Jack Swing, there's plenty to love here. Most of the tracks have dance-worthy beats and super catchy hooks that'll easily get stuck in your head. It's all slickly produced in a style that complements Delite's rap vocals, with spoken interjections and harmonies provided by the other Stray Mob characters. MC Skat Kat's rhymes are funny and entertaining, which further the mythos of his own rise to fictional rap superstardom. Yes, there is actual world building going on here, and it's a ton of fun. The lyrics are also a perfect cross-section of '90s pop culture, referencing famous celebrities, movies, TV shows, products and even other hip hop artists. Listening to it in 2021 feels like opening a time capsule.
Of course my musical tastes aren't as refined as most people's, and I fully admit that my love for early '90s-era Paula Abdul is a prerequisite for this glowing review, as is my sheltered white kid suburban childhood. I get that MC Skat Kat isn't exactly "real" hip hop, nor does it try to be. But as a novelty album featuring a rapping cat? It's absolutely purrfect. (Sorry, I couldn't help myself.)
My Track by Track Breakdown
Because I'm STILL not done obsessing over this album, here's my thoughts on each track, with a completely subjective ten point scale rating thrown in for good measure. If you'd like to listen along with me, check out the Spotify album embed below.
"Skat Strut" is the one and only single from this album and has its own animated music video featuring Paula herself (another artifact from the Skat Kat universe I knew nothing about). If it sounds familiar right away, that's because it samples heavily from "Let's Groove" by Earth, Wind & Fire, except the danceability has been amped up to 11. As fun and groovy as it is, this song barely charted in the United States. This is one catchy-ass single that tells you literally everything you need to know about MC Skat Kat in the lyrics: "I'm the kat who did the rap in 'Opposites Attract'; Me and Paula did a duo and then I went solo!". Good to know! However, being a TMNT fan, my personal favorite lyric is this killer opening line:
Well you've never seen a kat with so much charisma

Got more moves than a mutant nina – turtle, that is!
Yes, it all relates back to Teenage Mutant Ninja Turtles in some form or fashion with me. 10/10
"Big Time" starts out with a churchy-sounding organ riff, then quickly deviates into a beat-heavy track that would sound right at home on any New Jack Swing album. It chronicles MC Skat Kat's rise to fame from a poor broke cat who can't flow to the headlining rap superstar he is today. Or was. Or never was. Like "Skat Strut," this track got its own music video too, which never had an official release. Check it out to see MC Skat Kat's serious hoop skills and those quintessentially '90s black & white music video aesthetics. 8/10
"No Dogs Allowed" is the definitive summer jam of this album, taking musical queues from Young MC's "Bust a Move" and Tone Loc's "Wild Thing." In it, MC Skat Kat asserts his masculinity and raps about his affinity for good-looking felines only, redirecting all fatties and non-hotties to the dog pound. Hey, I never said this album had a positive message. 6/10
"I Ain't No Kitty" is an angsty track in which MC Skat Kat compares himself to Garfield and other cartoon cats in an attempt to establish his reputation as hard…or something. From a musical perspective, it kind of gives me Bobby Brown "My Prerogative" vibes, which is high praise. This song is a lot of fun and the lyrical flow is really smooth, but once again, we're reminded that MC Skat Kat got his start as the cat from the "Opposites Attract" video, a point that this album continuously beats you over the head with. Props to the marketing team for seizing every single opportunity to cross-promote, I guess. 8/10
"Skat Kat's Theme" starts with an overhead conversation of MC Skat Kat saying 'goodbye' to Paula, and rallying his posse, the Stray Mob, to get busy back in the studio, since legions of fans are clamoring for their music. If only! Compared to the other tracks here, this one's okay, but not super memorable. What is memorable, though, is that here we get yet another lyric to remind us "I'm that Paula Abdul cat!" Yeah, no shit, we get it already. 6/10
"Kat in the Kasino" is a slower, more laid back groove that gives us a glimpse into MC Skat Cat's nightlife, which is apparently spent gambling and whoring. In it, MC Skat Kat tells the harrowing tale of how he lost six lives in a poker game but blew his opponent away with a 9mm. What's a rap album without a little gun violence? I especially dig what I can only describe as "hip hop flutes" on this track and how Katleen and Silk, the female cats in his posse, plead with him to "slow down" during the song's chorus. But hey, that's the life of a player. 7/10
"On the Prowl" opens up with a few bars sung by Paula herself. I kept expecting her to pop up somewhere and she finally does, six tracks in. Here is where we learn she breaks up with MC Skat Kat, sending him out on his own. Skat basically says "Peace!" and goes on with rapping about romancing felines and not giving any fucks. Just like that, their budding relationship from "Opposites Attract" has come to a sudden and crushing halt. This is another solid dance track I could listen to over and over, and I'm awarding extra points for Skat's usage of the term "tenderoni." 6/10
"Kat Stories" elaborates on Skat's misadventures and misdeeds, and gives us a bit more of a window into the Stray Mobs' propensity for violence. I'm not particularly fond of this harder-sounding MC Hammer-esque track, but it's fun to imagine a world where Skat and his crew are jetting around in a Maserati, constantly picking fights and running from The Man. 5/10
In "So Sweet, So Young", we get an even clearer picture of who MC Skat Kat is when it comes to his romantic conquests. Spoiler alert – he's an asshole, and also kind of a creep. In this saucy male/female rap duet, he tries to mack on a P.Y.T. only to find out she's a rough 'n tough Brooklyn girl who won't stand for his shit. So what does MC Skat Kat do? He calls her a heifer and lets her know he's got plenty of sweet young kittens waiting in the wings. I'm starting to suspect Paula Abdul's song "Cold Hearted" is also about MC Skat Kat, but post breakup. 5/10
"I Go Crazy" is a jazzy, upbeat, piano-infused rap about MC Skat Kat's struggles with fame. Dogged by the tabloid press, crazy fans and gold digging felines, Skat laments that he can't ever just relax. It's great. 8/10
"New Kat Swing" (get it?) is perhaps the most meta track on this whole album, in which MC Skat Kat addresses "the media" and its persecution of hip hop, in an imagined world where Skat is some kind of controversial rap legend, comparing himself to 2 Live Crew. Yeah, seriously. Once again, he takes this opportunity to remind us that he's the same rapping cat from "Opposites Attract" who the media accuses of selling out. It's actually a pretty catchy song, and Delite's vocals on this track remind me a lot of Shock G from Digital Underground. 9/10
Bonus B-side track not found on the album:
"Get a Grip" was only released on a few UK versions of the Skat Strut single, which you can listen to here. This track samples "Let it Whip" by the Dazz Band, which automatically makes it catchy and danceable. In this one, MC Skat Kat raps about trying to be his "real" self despite his fame, and the lyrics are self aware enough to include the lines "My lyrics were made to be unacceptable, I've been deemed myself 'too sexual'." Word. 5/10
Listen to MC Skat Kat on Spotify
If you'd like to check out the forgotten MASTERPIECE that is The Adventures of MC Skat Kat and the Stray Mob for yourself, here you go: