However, this won't be that awesome reboot.
Instead you're getting my big gay Masters of the Universe cheesefest and you are going to like it, dammit. The original 1987 film was spectacularly awful, which of course means I loved it. (That's why I'm allowed to make fun of it, ok? It comes from the heart.)
In all seriousness, though, MOTU fans have gotten the shit end of the stick for a long time. I'm excited by all the recent buzz about the upcoming real reboot, even if it's still in the early stages. But I'll leave the serious stuff to Hollywood and you obsessive fanboys instead of cluttering up the Internet with yet another He-Man dream cast list, which Google tells me it already has thousands of results for.
So, without further ado…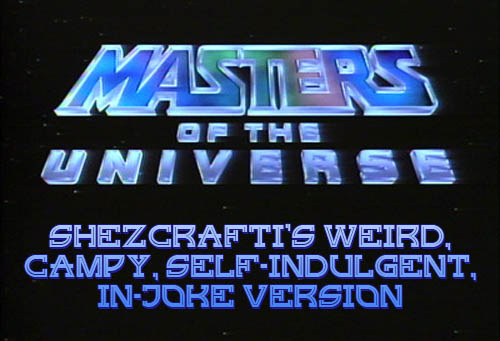 He-Man
There aren't many actors as built, blonde and dumb as Dolph Lundgren. And Matthew McConaughey is already comfortable with semi-nakedness and skimpy leather costumes. BY THE POWER OF GRAYSKULL, BRA!
Skeletor
I'm definitely not the only one out there who wants this to happen. But at 69 years old, I'll have to cast zombie Christopher Walken if this reboot doesn't happen soon.
In the meantime, here's a fun bonus activity: read these Skeletor quotes aloud to your friends in your best Christopher Walken voice!
Teela
I swear it didn't occur to me that "Teela" and "Mila" rhyme until afterward. But now that it has, I feel even better about my casting choice.
Evil-Lyn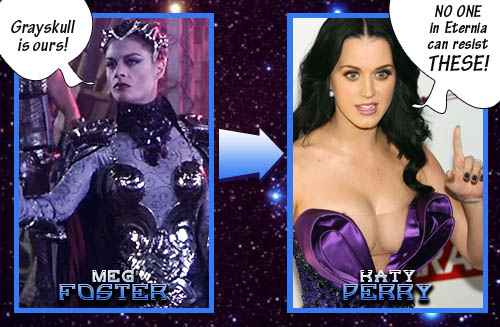 Part of Me 3D qualifies Katy Perry as an actress, right? I hope so because THE RESEMBLANCE IS UNCANNY!
Oh, I guess her looks are kind of similar, too.
Duncan
You can put Will Ferrell in every movie as far as I'm concerned.
Gwildor
In my Masters of the Universe universe, Gwildor is a mostly silent, inconsequential fixture of the background who only rarely interjects with his bizarre antics that are awkward for all involved. Galifianakis would be perfect, and the resemblance isn't that far off.
Editorial note:
I wanted to cast someone for Orko, but I suppose that wouldn't have been fair since he wasn't in the original and we got Gwildor's furry ass instead. Sorry, little buddy.
Beast Man
Too easy.
Sorceress of Grayskull
No commentary necessary here, folks.
There you have it.
My "Masterpiece" of the Universe. Would you watch it? I mean, where else are you going to see all of these weirdos in the same film?
Where's [insert missing MOTU character here]?
Oh, you mean like Julie (Courtney Cox), Kevin (Robert Duncan McNeill), Saurod, Blade, and Karg? I got tired of Photoshopping and they're not important anyway, so fuck 'em.
Other Dream Movie Reboots from The League
Won­der­ing what this is all about? This week's assign­ment from The League of Extra­or­di­nary Blog­gers was to remake one of our favorite movies with a cast of current Hollywood stars. Would you watch remakes of these movies?
Lair of the Dork Horde reboots THE BEASTMASTER, starring Chris Hemsworth and Jessica Biel
Goodwill Hunting 4 Geeks reboots KRULL, starring Chris Hemsworth and Jennifer Lawrence
Infinite Hollywood reboots SHATTERED, starring Bradley Cooper and Jessica Biel
(Did you guys copy each other's homework with these casting choices or what?)
UnderScoopFire reboots THREE AMIGOS, starring Thomas Lennon, Will Ferrell, and Paul Rudd