I want money, lots and lots of money, so I can buy all this cool stuff at Hake's!
This week's assignment from The League was to pretend money is no object and go on a fantasy shopping spree at Hake's Americana & Collectibles. Part of Baltimore's famous Geppi's Entertainment Museum, Hake's is a huge auction site filled with tons of nostalgic collectibles and pop culture memorabilia, ranging in price from surprisingly reasonable to somebody's going to have to donate a kidney. Browsing through the hundreds of pages of toys, novelties, comics, pins, posters, autographs and everything in between, I was overwhelmed at how much stuff they have. I spent a good hour or so just clicking through all the links and typing in random searches to see what I could find. Naturally I checked out their Teenage Mutant Ninja Turtles stuff first, however, I did resist the urge to fill up a blog post with just TMNT collectibles. You should be proud of me.
Anyway, cue the cheesy montage music. It's time to go shopping!
httpv://www.youtube.com/watch?v=Ztk9t_m1FpY
So, we're supposed to pretend like we're buying stuff to decorate our mansions, but if I were filthy rich I'd totally live on a huge yacht like Goldie Hawn in Overboard complete with useless, empty, hair-polishing, toe-polishing rich bitch sun tanning days. Instead of traveling the world collecting fine works of art, I'd fill up my yacht with vintage video games, valuable comics, toys, movie memorabilia, rare Ninja Turtles stuff, and other priceless (to me) treasures from all over. Basically it'd be just like Overboard except I'd own much cooler stuff and my crew would play '80s music around the clock. And also I wouldn't be a total bitch.
Here's what I bought!
I know it's a lot to take in. Believe me, I had a hard time narrowing it down to just this stuff. Here's a breakdown of everything I purchased with my pretend monies, and why:
1. 'Blues Brothers' Button
The Blues Brothers is one of the best movies of all time. If you disagree, you are wrong. The Blues Brothers were a few years before my time, but I grew up watching the iconic film with my Dad and catching up on those early years of Saturday Night Live (somewhere along the way I also developed a mini-crush on John Belushi which is pretty weird being that he's a dead guy, and all). This vintage Blues Brothers button predates the 1980 film and depicts Dan Ackroyd and John Belushi in character as Elwood and Jake.
Price: $12.00
2. Buster Brown Plastic Ring
The mall in my town where I've lived for over 30 years used to have a Buster Brown children's shoe store back in the early 80s, and every time my mom took me there to buy a new pair of shoes, it meant I would get one of these cheap plastic Buster Brown rings. For me, that was the whole point of going because I hated shoes and still do. I think I must have been traumatized by a shoe salesman at an early age or something. I know it's atypical because I'm a woman and we're supposed to like shoes, but if I could get away with going barefoot or wearing flip-flops year-round, I would.
Price: $15.00
3. 'Star Wars' Ken Steacy Signed Lithograph
This Star Wars print is so bad ass! Not only do I love the copious amount of hot pink, but the perspective makes Darth Vader look like a giant. Either that or somebody shrunk the Death Star. This Star Wars lithograph is from a limited run of just 50 prints and is signed by artist Ken Steacy.
Price: $150.00
4. Pair of 6″ Teenage Mutant Ninja Turtles Buttons
You knew there was going to be some Ninja Turtles stuff here, right? These oversize 6″ buttons are the kind that have a pop-out cardboard stand on the back to prop them up. I already have the matching Donatello, Leonardo and Michelangelo versions; I just need Raphael and the group shot with the logo, which are sold together in this TMNT button lot.
Price: $35.00
5. David Bowie 'Serious Moonlight' Tour Pin
This super 80s-tastic David Bowie pin (I seem to have a thing for pins) is from his 1983 Serious Moonlight tour. I was only two years old in 1983, but I love me some David Bowie–especially 80s Bowie (blame Labyrinth!)–and I love this abstract style of art. Thank God for YouTube which is like a time machine where I can watch the whole concert. Lets dance!
Price: $15.00
6. Jim Henson's Muppet Watches
I love all things Jim Henson and Muppets, so this Kermit watch with a Rainbow Connection theme caught my eye. It's part of a larger store display of Muppet watches and clocks from 1982. I really like the simplicity of the artwork and the green color of the band which matches Kermit.
Price: $250.00
7. Nintendo Power – 'Final Fantasy' Crystal Orb Prize
Here's one of the few video game-related things I could find at Hake's, but it's a good one! Back in 1990, Nintendo Power ran Final Fantasy-themed Treasure Contest and second prize was one of fifty custom decorative Final Fantasy crystal orbs with the game's name and emblem etched into the glass. As a nice bonus, it even comes with a copy of the Nintendo Power issue it was announced in, which is awesome too because the cover is dedicated to Maniac Mansion, one of my favorite NES games.
Price: $250.00
8. 'Star Wars: Return of the Jedi' Roller Skates
I had no idea Star Wars roller skates existed, but now that I do, I must possess them. I guess I really shouldn't be surprised, since there is Star Wars everything. Another thing I'd own if I were rich is my own private roller rink modeled after a late-80s Skate Land. You'd all be invited to come hang out anytime you want, of course. And if skating in wide circles to The Cars is not your thing, don't worry–there'll also be a bitchin' arcade and pizza parlor.
Price: $100.00
9. Mechanical Mighty Robot with Spark
I don't really know anything about this mechanical windup robot toy, except that he seems like a lot of fun and looks totally rad. The description on the website tells me he's from Japan and was made in the 1960s. Supposedly when you wind him up he walks forward and you can see sparks shooting off inside his chest window. See what I mean? Totally rad.
Price: $50.00
10. Batman Outfit with Button
Who doesn't want to be Batman for a day? With this cape, mask, and official "Charter Member Batman & Robin Society" badge, you could be. I just like the silliness of it all, and how the packaging says "TV Cape" instead of Batman. I don't know what that's all about, but evidently this Batman outfit only costed 98 cents back in 1966. Being Batman for less than a dollar sounds like a pretty sweet deal to me.
Price: $75.00
11. X-Men Comic Panel Buttons
You might not know this about me, but for a time in the early 90s I was even more obsessed with X-MEN than I was Ninja Turtles. I have since gone back to Turtles almost exclusively but I still keep up with X-MEN to a loose degree, and still hold on to several long boxes full of comics that document that period of my life. These X-MEN comic panel buttons are from 1986-1987 and feature awesome artwork, including my favorite 80s-era red and brown Wolverine style.
Price: $35.00
12. 'Top Gun' Showtime Button
More buttons! I could probably easily fill up a whole wall of buttons, or at the very least, a whole jean jacket. This one is a Top Gun promo button from 1987 promoting the Showtime network. I don't really care about that part, I just like it because it's Top Gun.
Price: $15.00
13. Miss Piggy Campaign Button
Did you know Miss Piggy ran for president back in 1980? This Miss Piggy for President button was distributed as part of her campaign, along with an appearance in Life magazine. Personally, I would not have voted for Miss Piggy and her feminist agenda, but it's fun to imagine what the country would be like today if she had won. #Beaker4President, amirite?
Price: $25.00
14. Walt Disney's Game Parade Board Game
This vintage 1940's Disney Game Parade caught my eye because of the box art and interesting design. Supposedly this thing is 15 board games in one, using different boards and playing pieces. But the real reason I like it so much is because Toby Tortoise is represented on the cover. You just don't see that guy around much. It's a shame he never became more popular after his Silly Symphony days.
Price: $125.00
15. Toby Tortoise Toothbrush Holder
Speaking of Toby Tortoise, check out this keen Toby Tortoise toothbrush holder from the 30s, which was back when they said things like "keen." It makes sense that Toby would store your toothbrush in his shell, you know, because he's a turtle. Just like how it also makes sense that he's wearing boxing gloves, because he's a boxer. In a way, Toby Tortoise is kind of a precursor to the Ninja Turtles. He's definitely cool enough to warrant more cartoon appearances than the few lousy ones he got. I'm rooting for ya, little buddy.
Price: $200.00
16. 'Tales from the Crypt' Pinball Advertising Button
Though I'm too young to have grown up with the original comics, one of my favorite horror anthology shows was HBO's Tales from the Crypt. My mom used to let me and my sister stay up late and watch it with her over a shared bowl of popcorn. This Tales from the Crypt button is associated with the pinball machine that was produced in 1993. Sadly, Hake's doesn't have the whole pinball machine or I'd buy that, because why not, I'm all rich and stuff now? The Crypt Keeper is definitely someone I'd hang out with on Friday nights. At the very least he deserves credit for my love of terrible puns.
Price: $60.00
17. 'Reform School Girls' Large Promotional Button
This is a large promo button from the 1986 extreme low budget B-movie Reform School Girls. Don't be surprised if we–and by "we" I mean "I"–end up covering this one over at Cult Film Club.
Price: $28.00
18. "The Swingers" Beatles-Like Figurines on Card
I had no idea The Shitty Beatles existed outside of Wayne's World. This set of "The Swingers" plastic figurines is clearly a knock-off of The Beatles. The fact that they're made in Hong Kong is a dead giveaway. I think knock-off products are hilarious, especially when they have such sexy names.
Price: $25.00
19. Reagan Satirical 1980s Postcard Lot
Not much to say about these satirical Reagan postcards, except that I find them hilarious because I'm immature. Ronald Reagan + Rambo = RONBO. Ronald Reagan + Ronald McDonald= Ronald McReagan. DO YOU GET IT, GUYS? I just want them for kitsch points, and also because the lot includes a card where Reagan has a giant penis on his head.
Price: $35.00
20. Teenage Mutant Ninja Turtles Power Rings Set
Okay, I had to sneak one more TMNT item in here. These are a set of eight Ninja Turtles "Power Rings" that came from Nabisco Shreddies (hurr hurr!) cereal in Canada. I like that the Turtles are all making different faces, which is rare for pieces like this; usually they just use the same sculpt and change the mask color. I'm also a little upset there's no Bebop, but these are just trifles. In no way does that mean I want the whole set any less than I do, which is badly.
Price: $35.00
21. 'E.T.' Jewelry Necklace Lot
I don't wear a lot of jewelry, if at all. I hardly even own any "nice" jewelry. When I do wear jewelry, I like it cheap and crappy like these goldtone E.T. necklaces, or even the plastic stuff from vending machines. It's not that I don't appreciate nice jewelry, it's just highly impractical for me and I've lost more than one nice rock. I'd wear the shit out of these E.T. necklaces, though, which come in four different designs, including my favorite, Transvestite E.T.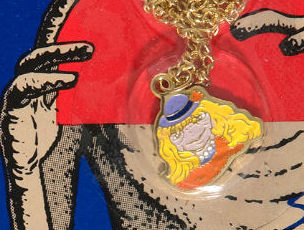 Price: $20.00
22. Disney's 'Robin Hood' Lunch Box
Here's another fun ShezCrafti fact: my Dad's name is Robin Hood. No joke. As a result, I've always been kind of drawn to Robin Hood-related stuff since my family has always sort of unofficially collected it. This Robin Hood lunch box is a little beat up, but I love Disney's version of the Robin Hood legend and I like the artwork.
Price: $60.00
23. 'The Rocky Horror Picture Show' Souvenir Button Trio
Lastly, I couldn't resist this set of three Rocky Horror Picture Show souvenir buttons. Again with the buttons. Not only do I love the movie, but it's the ultimate cult film.
Price: $24.00
So, how much did all this awesomeness cost?
$1,639.oo. Yup, I'm going to have to donate a kidney.
What would you buy from Hake's if money were no object?
Wondering what this is all about? This week's assignment from The League of Extraordinary Bloggers was to go on a fantasy shopping spree at Hake's Americana & Collectibles. I purposely did not look at what my fellow Leaguers posted before putting together my own list, so I can't wait to take a peek at all the crazy things they bought. Or maybe it's just me who went crazy?
I'll update this section with more links & info as everyone finishes the assignment and I actually get a chance to read them.