Sometime last year (in the spring, maybe? honestly, I've been out of the blogging loop so long, I don't remember) friend, fellow blogger & TMNT fan Tommy over at Top Hat Sasquatch posted some photos of mini arcade cabinets that looked to be the perfect size for action figures.
I was really impressed with how detailed they were, down to the tiny glowing coin slots and paused game images on the screens. Not to mention, tiny arcade machines that fit into the palm of your hand are fucking adorable. I asked/begged/implored Tommy to tell me where he got them, and before I knew what was happening I was dropping $60 on some "fun-size" arcades of my own.
I knew right off the bat which cabinets I wanted in miniature format, my two favorite arcade games of all time: Teenage Mutant Ninja Turtles and the 1992 six-player X-MEN game, both by Konami.
These miniature works of art are made by Justin Whitlock, who obviously does incredible work. In fact, he may have been put on this earth to make tiny replicas of classic arcade machines, they are that awesome. Check out his Flickr gallery of custom mini arcade creations and prepare to want to buy everything you see.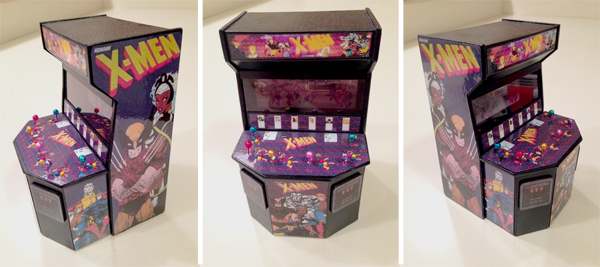 Of course, a tiny TMNT arcade cabinet needs a tiny Ninja Turtle to play it. Even better when said tiny Ninja Turtle is a custom action figure hand-painted by my own boyfriend, Shawn Robare of Branded in the 80s, who did a much more amazing job than he tends to give himself credit for.
Do you SEE this? I mean, look at all the dark, gritty detail! It's hard to believe this is the same Nickelodeon TMNT figure that's hanging on the pegs of toy store shelves right now. Shawn's more of a traditional, pencil & paper kind of artist, but he totally surprised me with this hand-painted Raphael for my birthday back in September. Not only is Raph my favorite turtle, but now he's also my favorite birthday present.
Hey, what's this? Raph is playing as Leo!

Irony, or just further confirmation that Leo is the best Turtle to play in the video games?
By the way, if you're interested in getting some mini arcades of your own, you can get in touch with Justin on this this page. From what I understand, he's pretty backlogged taking custom orders, so it may take a few months for you to get yours fulfilled, but I promise you it's worth the wait.