You might recall this movie as that time the kid from E.T. got chased by spies, and something or other involving an Atari game of the same name. Cloak & Dagger is a 1984 kid-centric, spy-themed movie that stars Henry Thomas (who played Elliott in E.T: The Extra Terrestrial and is really good at crying) and Dabney Coleman , who I'm sure needs no introduction (but for some reason I feel the need to point out I will forever associate him with the short-lived early 90's sitcom, Drexell's Class.)
As far as lesser-known, underrated kid movies from the 1980s go, you'd be hard-pressed to find one with as cool a plot as Cloak & Dagger.
11-year-old Davey, whose mother is dead and whose father is preoccupied with his own problems, has retreated into a world of video games and an imaginary hero-pal, the swashbuckling superspy Jack Flack. When an FBI agent about to be murdered slips him a video cartridge containing top-secret data, Davey is suddenly plunged into the intrigue and danger of real-life espionage. No adult believes his story, so he must run a gauntlet of violence and villainy aided only by a younger girl and the encouragement of "Jack Flack" at his side. How long can a comic-book role model guide him through this encounter with reality?

[source: IMDB]
(I know it's kind of a cop-out to simply copy & paste the description from IMDB and not do my own full review, but here it is after midnight on a Sunday night, and I'm punching the clock to get this post done on time. It's been a helluva week.)
Awesome kid spy stuff aside, I love this movie because of its obvious ties to video game pop culture, and that it's like a cinematic time capsule of vintage 80's electronics. I mean, look how huge those walkie talkies are! And I really like Henry Thomas as an actor too.
To make up for my lack of review, here's a crap ton of screenshots for you: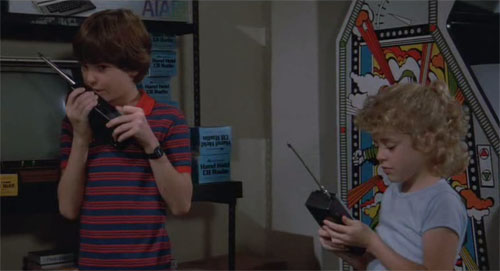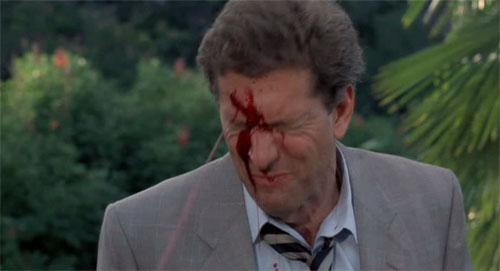 And here's one last screenshot of Dabney Coleman doing that whole "cool guys don't look at explosions" thing.
Jack Flack always escapes!
Wondering what this is all about? This week's assignment from The League of Extraordinary Bloggers was a single, cryptic word: "spies." Here's how some of my fellow Leaguers interpreted this obviously secret message: